[who sings jump up super star]Meet Tai Verdes, the rising star who funded his career by winning a dating show
  By Mark Savage
  BBC music reporter
  Published
  12 minutes agoShare pageAbout sharing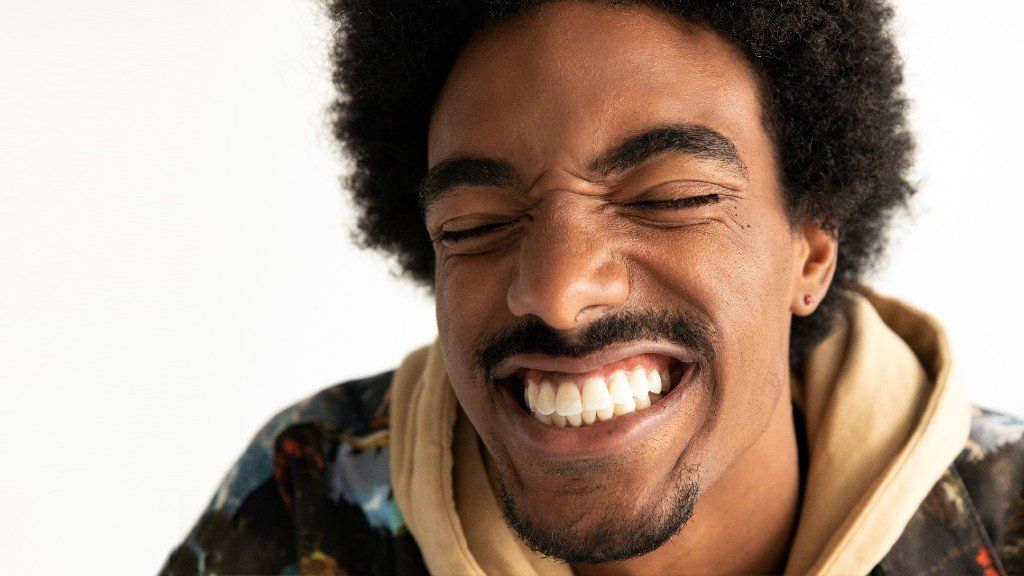 image copyrightAngelo Kritikosimage captionThe singer's debut album, TV, is full of summery sing-alongs and laid-back vibes
  At the start of 2020 Tai Verdes was selling mobile phones and sleeping on a friend's couch when his career suddenly took off.
  Stuck In The Middle, a catchy, scrappy song he'd written after his shifts ended, blew up on TikTok. More than 2.3 million people took his story of being stuck in romantic limbo and used it to soundtrack their own videos.
  The success spilled over to Spotify, where Verdes topped the viral songs chart. When his song hit two million streams last July, the US singer celebrated by posting a video from the Verizon store where he still worked.
  "Someone even recognised me today," he says in the clip. "It wasn't much, but it was enough for me to think about getting out of here."
  The 24-year-old says the purpose of the video was to show that overnight success is a myth.
  A hit song "doesn't just turn into a million dollars and a nice car", he explains. "It turns into waiting – which I think I've gotten pretty good at."
  That's an understatement. The singer, born Tyler Colon, has been waiting for his break since dropping out of university five years ago.
  Unsure how to make it in the music industry, he auditioned for shows like American Idol and The Voice, only to be rejected seven times. Songs he released under the moniker Tylersemicolon weren't going anywhere either. So he applied to go on an MTV dating programme – and ended up winning the series.
  With $50,000 (£36,000) in his pocket, he moved to Los Angeles and started hustling – taking jobs in retail, fashion and film while working on his music late at night.
  His persistence finally paid off with Stuck In The Middle, and he has worked to turn viral success into a sustainable career. Subsequent singles Drugs and A-OK have also racked up millions of streams, and his debut album, TV, has won support from Rolling Stone, Billboard and Apple Music.
  Key to his appeal are a laid-back and easy-going vibe that's as apparent in person as it is in his music. Speaking from his apartment in LA, Verdes filled us in on his rise to fame.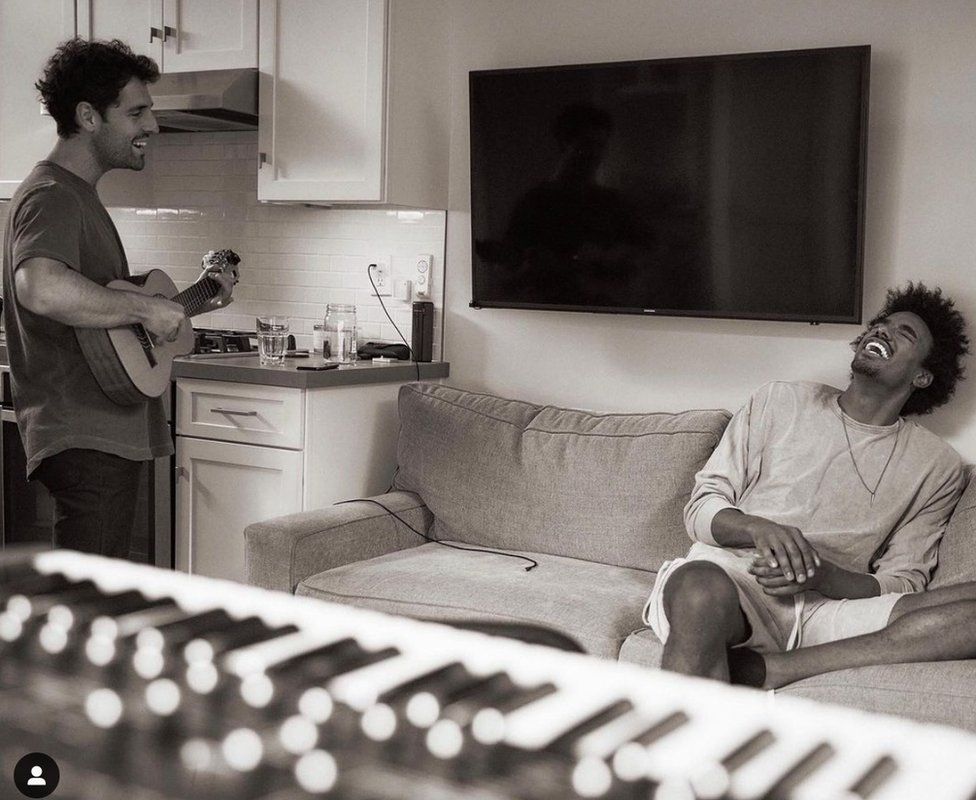 image copyrightTai Verdes / Facebookimage captionThe star wrote and produced his album with Adam Friedman, who previously worked with Mike Posner
  When and why did you start playing music?
  My mom put me in lessons when I was 11. She said, "If you play piano, you're gonna get the ladies", and I was like, "Let's do it!" Once I got started, I realised I really liked it and I've been doing it for 13 years.
  Did you do piano exams?
  Naah. See, my teacher wasn't strict, so if I wanted to play the Jurassic Park theme music, he would arrange it for piano, and then we would learn how to play it.
  Were film scores your thing?
  Yeah, I did Jurassic Park, I did film themes – but I also liked playing songs that were on the radio. I remember learning Jump by Van Halen.
  That's quite an easy one, right?
  Exactly. That was one of the first songs I played and I was like, "Wow, I sound like I know what I'm doing!"
  Figure captionWarning: Third party content may contain adverts
  How did you make the leap from covering songs to writing your own?
  That was down to my mom. We were listening to the radio in the car one day and she was like, "I think I can rap the same as Jay-Z."
  I looked at her and I said, "Mom, you're completely crazy, that's definitely not true." But her ridiculous confidence got transferred over, and I was like "You know what? I can make my own music."
  The first track on your album, Real World, talks about dropping out of college and missing graduation. What happened?
  I just wasn't motivated to be there. Like, it pained me. I'd fall asleep in class and stuff. So it's a good move that I left because, at that point, it's a waste of money.
  What did your parents think?
  They were like, "If you're gonna drop out you have to support yourself, because we only want to support your education."
  What did you do?
  I was trying to think of creative ways to get money, and I just applied to this random reality show. I got the audition and then I ended up winning – so I got $50,000 to move out to LA and do what I wanted. I tried comedy, I tried modelling, I tried acting. It was just really cool to try a lot of different stuff with that money.
  What was the show?
  It was called Are You The One and, basically, you take 11 guys and 11 girls, you put them in a house and they match you up.
  That was the first thing that worked out – because I tried out for The Voice and American Idol a bunch of times and they kept saying no.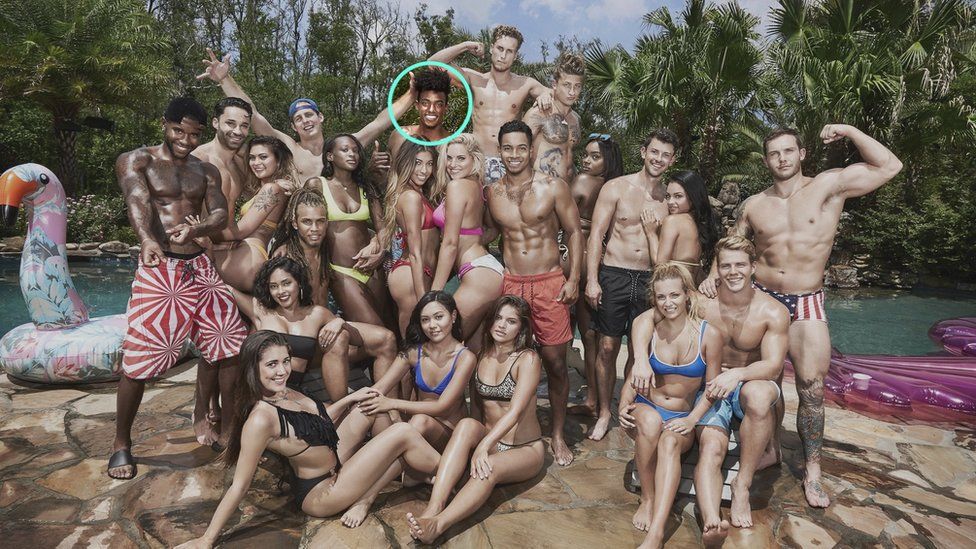 image copyrightMTVimage captionTai Verdes and the cast of Are You The One season 6
  Did their rejection put you off music, or was it fuel to the fire?
  I don't think rejection is a thing, really. It's all feedback. If someone is saying no, there's a reason why.
  For me, I know that I wasn't good enough back then. I had never worked on my voice or anything. I would just go in and sing a song that I thought it was funny and I thought I would get on TV, but that obviously didn't work.
  What brought you back to music after modelling and acting?
  Coronavirus shut everything down! I had a little Nike campaign I was supposed to shoot and I was like, "Oh man, I think could be a model if I work out really hard get into good shape." And then quarantine happened and all the gyms closed, so I was like, "OK, what about music?"
  I'd already made six or seven songs with friends, just messing around – but I wanted to get more professional, so I would practice singing exercises every day in my car for an hour and a half. Then, after six months, I went to the studio and recorded three songs and one of them was Stuck In The Middle.
  At that point, you were still working as a phone salesman?
  Yeah, but I had a lot of weird jobs. I was an intramural volleyball referee, and I also worked at a luxury sunglasses store.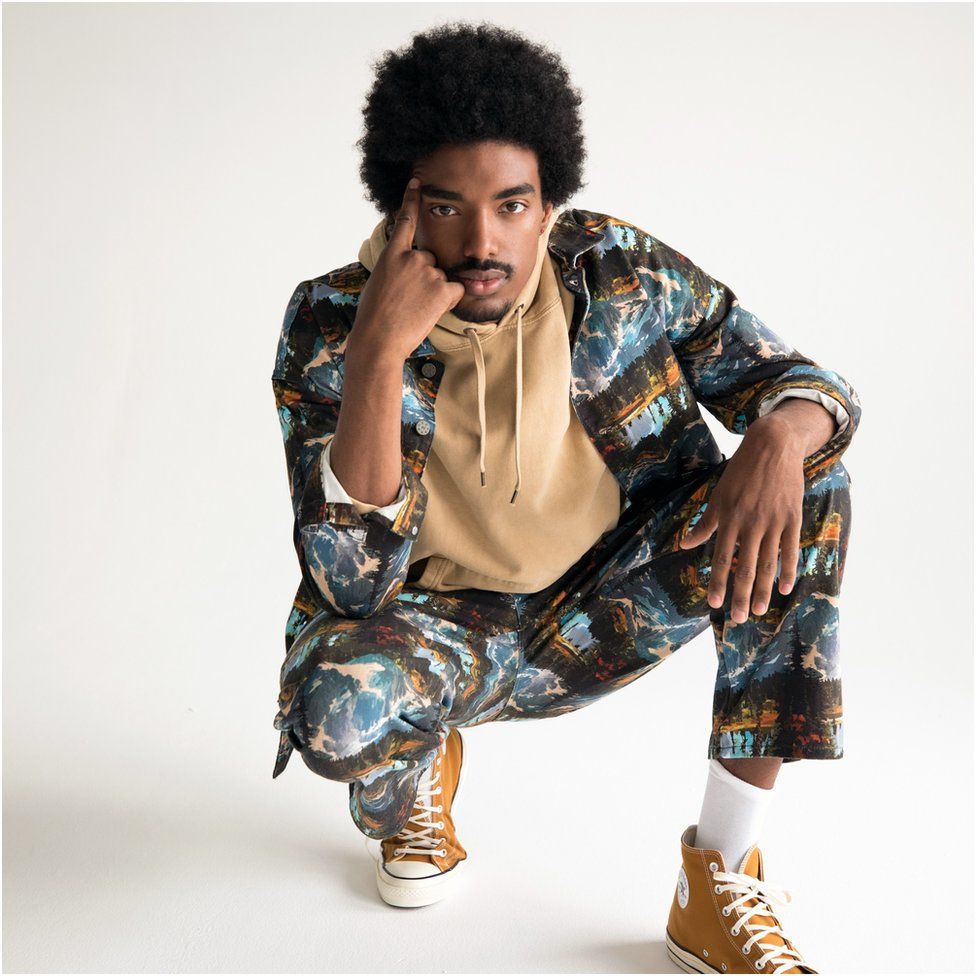 image copyrightAngelo Kritikosimage captionThe 6'7″ singer once hoped to become a professional basketball player
  Stuck In The Middle caught fire on TikTok. Was that something you'd plotted out?
  Well, back in 2020, not a lot of artists were using TikTok in creative ways to promote their music. But that algorithm is so potent and so ready to share good ideas with people – so I got in my car, sang the song and said, "If this gets 1,000 likes, I'll put out the song tomorrow."
  I was gonna put out the song anyway – but after I got home, it ended up getting 80,000 likes, and it just kept building and building.
  TikTok has been great at generating one-off hits, but a lot of creators find it hard to follow up that success. How did you navigate that trap?
  Something I've realised is that every artist's new song starts with zero views. Billie Eilish's new song started at zero. Tyler, The Creator starts at zero, and my songs start at zero. So in terms of streaming, you have to make sure people notice.
  That's why I picked Drugs as my second single – because I thought that lyric, "Sometimes I do drugs, but not the hard ones," would catch people's attention.
  Do you feel TikTok encourages people to write songs with "punchlines"?
  No, because the best-written songs do well on TikTok naturally. Take any song that's huge right now and put it on TikTok and it would blow up because they're all already clever, they do have punchlines.
  When it came to making the album, did you have a concept?
  I really wanted to tell the story of the last four years of my life – and I needed every single track to have a purpose, like a soccer team. I need one person to be the goalie and one person to be the forward.
  Yes, some tracks stand out more than others, but I wanted it to be a story so that people had a reason to listen to the whole thing and understand who I am and what I'm aiming for.
  Figure captionWarning: Third party content may contain adverts
  We Would Have Some Cute Kids is a fun, summery song. What's the story behind that lyric?
  You see people walking down the street sometimes and you're like, "Oh dang, we would have some cute kids." So I wrote that down – then I looked it up on Spotify and there was no other song in the world with that title. In the history of the existence of the universe, I made the first song called We Could Have Cute Kids, and I'm super-proud about that.
  On Spotify, the title is all lower case – why is that?
  It would be weird if it was all capitalised, right? It would sound like a threat.
  The album is out and you've got gigs booked this summer, fingers crossed, but what are your plans for the immediate future?
  In the immediate future? I'm training to be able to do a backflip on stage! I don't know if I'll be able to hit it, but I'll try my hardest.
  What's it going to be like, the first time you walk out on stage and play these songs to an audience?
  I don't know, man. I might cry.

  Follow us on Facebook, or on Twitter @BBCNewsEnts. If you have a story suggestion email entertainment.news@bbc.co.uk.
  TikTokMusic